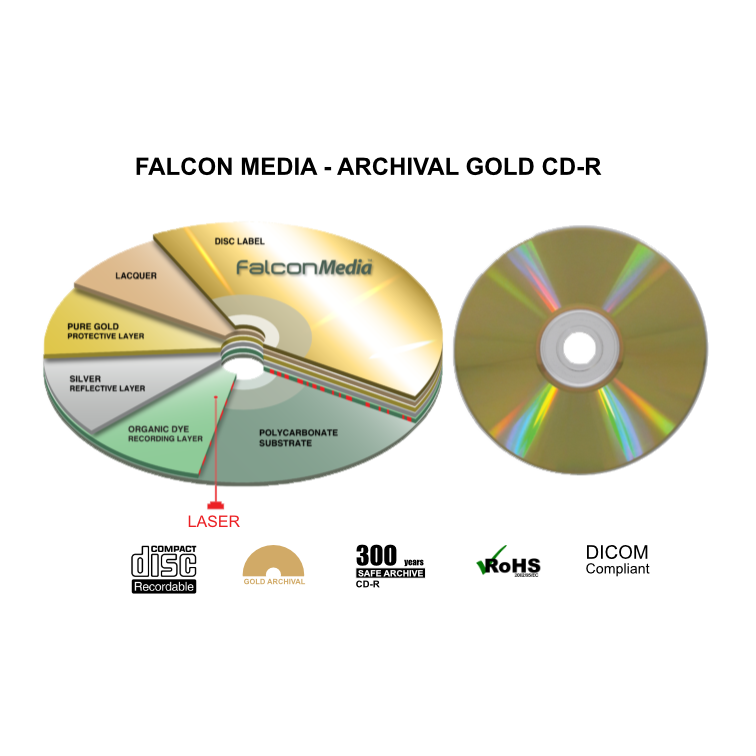 Evidence Grade Gold CD-R Info
Our Evidence Grade Gold CD-R™ media to storearchive your most critical evidence data on the ultimate CD-R. Our Evidence Grade Gold CD-R™ integrates a double reflective/protective layer of both 24 Karat Gold and Silver. The Gold layer offers maximum resistance to environmental degradation, especially corrosion which is one of the major causes of discs failure in standard media while the Silver layer delivers the highest reflectivity and broad drive compatibility.
Our Evidence Grade Gold CD-R™ media has been tested in accelerated aging tests under severe high temperature and high humidity storage conditions based on ISO standards. The results confirm safe storage of data for more than 300 years!
Our Evidence Grade Gold CD-R™ is compliance with ROHS/REACH and DICOM.
With reference to the LNE benchmark report (Laboratoire National de métrologie et d'Essais - France) this product passed ISO/IEC 16963 (ECMA 396) Standard Test and Conditions.
Key Benefits:
• TDK Time Code
• Guaranteed archival life span of 300 years
• Gold layer disc & Archival grade
• High performance with ultra low error rates
• Compatible with the most popular drives
Discs are packaged in 25 count plastic spindles with black covers.
Evidence Grade Gold CD-R™ Features:
Evidence Grade Gold CD-R Media
Capacity: 700MB / 80 minutes CDA
Record speed up to 52x
6 Color Printing
Waterproof & Scratch Resistant
300 -Year Data-Integrity Guarantee
Serialization Optional - Learn More
If you require any standard packaging such as Paper Sleeves, Plastic Sleeves, Clam Shells, or Ejector Cases, these are available when building your order.
Evidence Grade Gold CD-R™ Packaging Options:
| | |
| --- | --- |
| | We are proud to offer only the highest resolution printing quality and technology, with the latest 6 Color UV Cured Digital Inkjet process. Unlike Silkscreen printing, Digital UV Inkjet is zero contact, meaning no physical contact is made by the printing process, eliminating any potential physical damage silkscreen printing can do. Additionally, unlike the silkscreen process, we use our proprietary Cold Cure UV™ systems, eliminating high heat transfer during the curing process, unlike traditional UV curing, which is high heat with InfraRed heat (IR). High heat and IR can be detrimental to the disc's physical structure, resulting in either or both write or read errors. |
| | All our printed discs as standard are waterproof, unlike other printers who use traditional inkjet printed water-based inks that smudge and run. |
| | By using the top-quality UV Cured inks, our discs are scratch-resistant. |
| | Store up to 700MB of data / 80 Minutes of Audio. |
| | Enjoy fast record speed! Our CD-Rs can record up to 52x speed. |